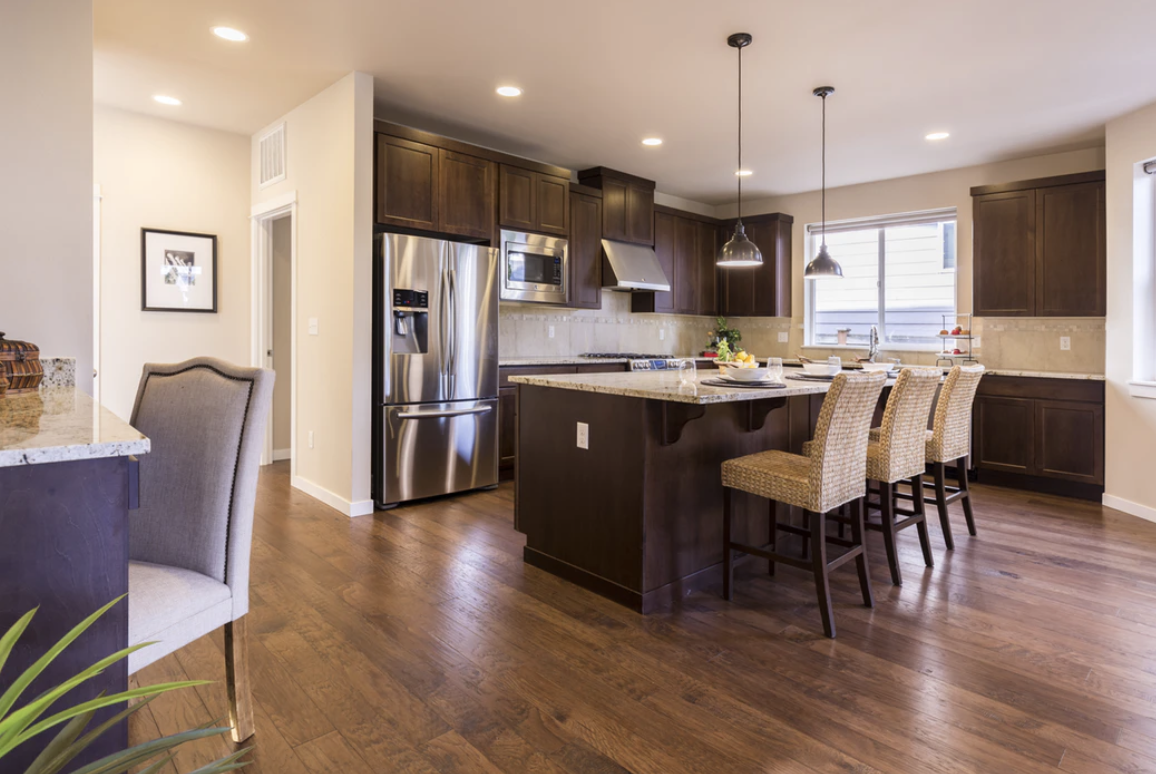 By Suzie Wilson
Looking to list your home this fall or winter? If you're feeling anxious about doing so, you should know that these can be the perfect seasons to sell your home and can even help it sell for more profit. You just need a few fall and winter home selling tips to maximize your listing.
Winter Plants and Holiday Decor Can Boost Curb Appeal
Just because it's fall or winter doesn't mean your yard has to look drab. In fact, you can easily add a winter garden to your property, in order to spruce things up and attract potential buyers. Some beautiful shrubs that can withstand the colder seasons include witch hazel, Japanese pieris, and holly. If you have flower beds, you can always add these cold weather plants, or you can use containers to add pops of color to your front porch. While adding some winter plants will draw potential buyers to your listing, you may also want to add some touches to help visitors feel at home. Fall and winter offer plenty of opportunities to deck out your outdoor spaces with holiday decor. Just keep decorations simple and sleek, so your home will appeal to more potential buyers.
Special Touches Can Help Make Staging Homes Easier 
Staging your home's interior can be fairly simple in the fall and winter months as well. You'll want to start by clearing out any excess clutter to make the inside of your home look as spacious as possible. Next, take a look at any leftover pieces of furniture or decor. Update any older items with modern touches that will help shoppers feel cozy. Those modern changes can be as simple as adding a throw rug to set spaces apart or repainting your walls in more neutral colors to create the illusion of space. Lighting is key during the darker months as well, so use a mixture of lamps and fixtures to create the perfect ambiance in each room.
Fall and Winter Open Houses Can Be Fairly Simple to Pull Off
Just like the inside of your home, preparing for open houses typically involves the same basic steps throughout the year. Since open houses are meant to attract a lot of people to your property, though, you will need to work with your realtor to create a marketing plan and to time your open house just right for prospective buyers. In fall and winter, you may need to add some extra steps to keep those visitors comfortable and safe as they explore their potential new home. If your area gets a lot of snow, be sure to shovel driveways and any other walkways. It's also a good idea to keep all areas well-lit and warm to give your listing that cozy feeling buyers crave in a property. Good smells can add to that coziness and attract offers on your property.
Homes Listed in Fall and Winter Can Give Sellers Some Advantages
Most people would tell you that spring and summer are the best times to list a home, but that all depends on what your goals are as a seller. Selling in the winter can actually have some perks for savvy sellers, so as long as you are willing to put in the extra work to help your listing stand out, it may be best to list it during the off-season. For one, when you list your home after the peak selling season, you will be competing with far fewer properties. Fewer properties can help attract higher offers on your home, but you are also more likely to get those offers from serious buyers. So when you look at all of these benefits, this may be the best season to list your home!
Selling a home in the fall or winter shouldn't stress you out. This can be the perfect time to sell a home, and you may even net some higher offers. There are so many cozy and warm touches you can add to help attract those fall and winter home buyers. So if you need to list your home in the off-season, don't despair and use the tips above to help your listing sell faster!
Photo Credit: Unsplash
In addition to providing shelter and comfort, our home is often our single greatest asset, and it's important that we protect that precious investment. Most homeowners realize the importance of homeowner's insurance in safeguarding the value of a home. However, what they may not know is that about two-thirds of all homeowners are under-insured. According to a national survey, the average homeowner has enough insurance to rebuild only about 80% of his or her house.
What a standard homeowners policy covers
A standard homeowner's insurance policy typically covers your home, your belongings, injury or property damage to others, and living expenses if you are unable to live in your home temporarily because of an insured disaster.
The policy likely pays to repair or rebuild your home if it is damaged or destroyed by disasters, such as fire or lightning. Your belongings, such as furniture and clothing, are also insured against these types of disasters, as well as theft. Some risks, such as flooding or acts of war, are routinely excluded from homeowner policies.
Other coverage in a standard homeowner's policy typically includes the legal costs for injury or property damage that you or family members, including your pets, cause to other people. For example, if someone is injured on your property and decides to sue, the insurance would cover the cost of defending you in court and any damages you may have to pay. Policies also provide medical coverage in the event someone other than your family is injured in your home.
If your home is seriously damaged and needs to be rebuilt, a standard policy will usually cover hotel bills, restaurant meals and other living expenses incurred while you are temporarily relocated.
How much insurance do you need?
Homeowners should review their policy each year to make sure they have sufficient coverage for their home. The three questions to ask yourself are:
·      Do I have enough insurance to protect my assets?
·      Do I have enough insurance to rebuild my home?
·      Do I have enough insurance to replace all my possessions?
Here's some more information that will help you determine how much insurance is enough to meet your needs and ensure that your home will be sufficiently protected.
Protect your assets
Make sure you have enough liability insurance to protect your assets in case of a lawsuit due to injury or property damage. Most homeowner's insurance policies provide a minimum of $100,000 worth of liability coverage. With the increasingly higher costs of litigation and monetary compensation, many homeowners now purchase $300,000 or more in liability protection. If that sounds like a lot, consider that the average dog bite claim is about $20,000. Talk with your insurance agent about the best coverage for your situation.
Rebuild your home
You need enough insurance to finance the cost of rebuilding your home at current construction costs, which vary by area. Don't confuse the amount of coverage you need with the market value of your home. You're not insuring the land your home is built on, which makes up a significant portion of the overall value of your property. In pricey markets such as San Francisco, land costs account for over 75 percent of a home's value.
The average policy is designed to cover the cost of rebuilding your home using today's standard building materials and techniques. If you have an unusual, historical or custom-built home, you may want to contact a specialty insurer to ensure that you have sufficient coverage to replicate any special architectural elements. Those with older homes should consider additions to the policy that pay the cost of rebuilding their home to meet new building codes.
Finally, if you've done any recent remodeling, make sure your insurance reflects the increased value of your home.
Remember that a standard policy does not pay for damage caused by a flood or earthquake. Special coverage is needed to protect against these incidents. Your insurance company can let you know if your area is flood or earthquake-prone. The cost of coverage depends on your home's location and corresponding risk.
Replacing your valuables
If something happens to your home, chances are the things inside will be damaged or destroyed as well. Your coverage depends on the type of policy you have. A cost value policy pays the cost to replace your belongings minus depreciation. A replacement cost policy reimburses you for the cost to replace the item.
There are limits on the losses that can be claimed for expensive items, such as artwork, jewelry, and collectibles. You can get additional coverage for these types of items by purchasing supplemental premiums.
To determine if you have enough insurance, you need to have a good handle on the value of your personal items. Create a detailed home inventory file that keeps track of the items in your home and the cost to replace them.
Create a home inventory file
It takes time to inventory your possessions, but it's time well spent. The little bit of extra preparation can also keep your mind at ease.  The best method for creating a home inventory list is to go through each room of your home and individually record the items of significant value. Simple inventory lists are available online. You can also sweep through each room with a video or digital camera and document each of your belongings. Your home inventory file should include the following items:
·      Item description and quantity
·      Manufacturer or brand name
·      Serial number or model number
·      Where the item was purchased
·      Receipt or other proof of purchase / Photocopies of any appraisals, along with the name and address of the appraiser
·      Date of purchase (or age)
·      Current value
·      Replacement cost
Pay special attention to highly valuable items such as electronics, artwork, jewelry, and collectibles.
Storing your home inventory list
Make sure your inventory list and images will be safe in case your home is damaged or destroyed. Store them in a safe deposit box, at the home of a friend or relative, or on an online Web storage site. Some insurance companies provide online storage for digital files. (Storing them on your home computer does you no good if your computer is stolen or damaged). Once you have an inventory file set up, be sure to update it as you make new purchases.
We invest a lot in our homes, so it's important we take the necessary measures to safeguard it against financial and emotional loss in the wake of a disaster. Homeowners insurance is that safeguard, be sure you're properly covered.